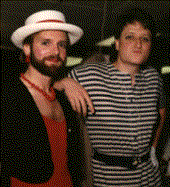 Dan Coble and I in Drag

---
The Following are
Who have requested that they be listed here.
Okay, guys...keep it clean.

I am acquainted with these gals, and they are fine human beings. There have been some complaints about rude comments. I have told them, that if they receive any more rude comments from this service, I will discontinue it. Please respect this,
Thank you, -Dave
---
2 WILD AND CRAZY GIRLS?
Okay, that photo above is not two girls. It's myself and a friend of mine in drag. No, we're not looking for men, but at this time, we have very few women listed. We need help (obviously) so, please tell all the girls you know who might be seeking men & tell 'em to drop us a line (so we can get out of these ridiculous outfits).
---
MY POET FROM BRISTOL
I don't want any old man. I want my poet from Bristol, TN. E-mail me!!!! PLEASE!!! I need to talk to you. Penni Dahl.
---
RETIRED UNIVERSITY PROFESSOR
Voluptuous brunette. 5' 8", n/s seeking virile gentleman 55+ with 4X4, tuxedo and chainsaw. Early riser. Rich and generous preferred. Must be liberal and prefer monogamy. Prefer soulmate-type with excess baggage left outside the bedroom. Patricia
---
WELL ADJUSTED GAL
Hi, I'm 57yrs young going on 47. slim and attractive, blue eyes blonde hair, Looking for that special man who is dedicated to God first and then me. Must be a spirit filled man Im a widow and Im seeking a widower or a gentleman whom has not been married.. I know Im pickieeeeeeee oh well God has you out there forme. (SMILE) If you are intrested Im waiting.... Dee.
---
LIFE IS SHORT. . . . SHARE YOUR HOPES AND DREAMS WITH ME Hi handsome. Are you lonely? Are you seeking someone who is committed to love you, comfort you when you are sad, laugh with you. . . Come and share your hopes and dreams with me. Let's grow old together. . . . Must be Christian, I'm 52 and you? Must be animal lover. Gail James
---
SEEKING SINCERE,CHARMING GENTLEMAN
who will capture my heart, drag me away from my workaholic life and show me what I have been missing. Financially secure, intelligent, independent,funny, creative person wanted for attractive,tender, adventuresome 52 year old female. Starr.
---
FRILLY SILLY NOT!
Divorced 52 yr old white professional female here waiting for you! Judy.
---
NURSE SEEKING PATIENT NEEDING TLC
Florida gal 51, GOING ON 30, seeks gentleman that enjoys the outside, moonlit walks on the beach. An old fashioned picnic, NASCAR, Bowling. . . I have alot of TLC to offer the right guy. . . All Teddy Bears welcome, Marilyn.
---
INTELLECTUAL COMPANION WANTED
I am looking for friendship through which I can share intellectually rewarding time. I am an Asian woman in her early 50s. I look for common interests in things, such as nature-walking, bird-watching, meditating, reading, travelling, listening to classical musics. I am a Cancerian. Susan
---
HAPPY LIFE TO SHARE I have a good life which would be even better if shared with a loving, happy man. I live in rural Ontario, Canada, am self-employed as a writer and editor. Educated -- background in counselling and community development, somewhat to the left of centre politically. Enjoy the outdoors, travel, reading, bicycling, family and friends and spending time in Mexico. Fair hair and complexion, 115 lbs, reasonably shapely, attractive, healthy, 50 years young and sane. Struggling to quit smoking. Sound interesting? Anny
---
SEEKING MATURE GENTLEMAN
In my fifties, I'm blessed with a youthful outlook and appearance. I am attractive, warm, caring, and intelligent, college grad, looking for a serious relationship with a special man who is a kindred spirit. I am 5'6", 130 lbs., well-proportioned, blonde, brown eyes, blithe, committed Christian. Seeking well-educated (masters or above), financially secure, avg. ht. and wt., warm, witty, affectionate. Serious responses only, please. Elizabeth.
---
ISO INTELLIGENT LIFE
I am an attractive, active, professional woman in her 50's living in Santa Monica, CA and have everything I need to live the good life except a compatible mensch with whom to share life's joys and sorrows. I enjoy bicycling, hiking, dining, dancing, movies, theater, outdoors & travel. Also love to read, listen to good music and enjoy good conversation. Intelligence and articulateness are musts! Evelyn I.
---
WANTED - HUSBAND
Beautiful SWF, Pisces, 50, 5' 4", 139 lbs. Short brown hair, sparkling brown eyes. Artist with promising future. Incense, candles, baths. Quiet, elegant, simple lifestyle. Good music, old movies, wine. Little meat, TV. Willing to relocate. Sensual, devoted, and loving with her man. I need care, support, and understanding. Ideal partner has strong values. Pisces, Scorpio, Cancer. 40-58 yrs. old, 5' 11" - 6' 4" , big build. Active, hobbies, reads, exercises, healthy food, HIV neg., well-groomed, smart, kind, loving, honest. Emotionally-open. Sleeps quietly. Honors and cherishes his woman. Sorry, no regular access to the Internet. e-mail me.
---
THAT SPECIAL MALE
I am lookin for that special person in my life. I love to travel with my companion. I am A 49 yo, SBF who is looking for love and no joke in life. If you want to know more email me. BCrowe.
---
SEEKING THAT SPECIAL SOMEONE
I am a 49 year old female looking for that special someone. I am a very friendly and outgoing person. I like country/western music and going to live concerts, among other things. Please e-mail me, Sara Jones.
---
CHEROKEE PRIDE
I'm almost 49yrs old.DWW looking for a friend. divorced 6 months after a 29 year marriage. I'm obesed, I smoke and like and occasional drink. Was a Navy wife for 20 years. I have two daughters and one grandchild. I want a friend not wanting marriage!. I just someone to talk to and a shoulder to lean on. I also have just joined the Texas Cherokee. I live in the Dallas area. Pam.
---
LIKE FINE WINE. . . BETTER WITH AGE Fit and young looking, single, blonde lady from the coast is interested in cyver-buddies. To get to know and communicate with. Intersts range from computers, travel, psychology, rollerblading, hiking, fishing, chess, cars, golf, ethnic dining, country by day and city by night. Also love music for all moods. Great conversationist. Xena
---
ROMANTIC RUSSIAN WOMAN
I'm tender, very affectionate and romantic, 47 year old Russian woman and I am non-smoker, drinker. The man I'm looking for is playful in serious in different situations, with deep and constant feelings, who will make us both happy for all limit life. Good inside, generous. Age is not chief. Nela
---
LADY CAMPER
I am 47 years old 5' 7" red short hair average build great sense of humor fun loving honest loving very high moral and standards. play no head games or sex talk. I have been alone for 1 year and I don't like being alone. I want a friend to do things like camping walking driving shopping etc. with. I want a good friend first then maybe a relationship. Sandra Graham.
---
WIDOWED CORRESPONDENT
I am a widowed female, 47 years old, residing in Fairland, Johannesburg, South Africa and wish to communicate with men over the age of 50. All interested in communicating through the "net" can do so. Correspondence will be answered as soon as is possible. Looking forward to all your correspondence! Susan Brooks.
---
GREETINGS FROM FLORIDA
I'm daring, adventurous, (just fractured some ribs while in-line skating!), & I like 2 have fun! 47 but I intend 2 remain immature 4ever. I'm petite, karefree, & hopelessly in denial about my age! send e-mail if u love to dance, the beach, sunsets, & dining out, Carrie.
---
LET'S CURL-UP WITH A BOOK OR THE TUBE
Hey, I am a 47 yo NYDWF, not particularly looking for anyone. I work hard, have a voracious appetite for books, and am hooked on old tv shows, 70's and 80's. I am intelligent, and cannot tolerate deliberate stupidity or rudeness. Linda.
---
LET'S SNUGGLE BY THE FIRE
I'm a 47 year old divorced (18 yrs) female. Work full time, attend college 3/4 time. Looking for a man that can allow me to have my own space. I'm 5' 4-1/2", 127 lbs. Considered attractive (honest). Live alone, not even a pet. I love to go dancing, out to dinner, walk on the beach for hours talking and holding hands. I have a great personality (bubbly), and am liked by most. Is there a man out there who can bring me joy? Not looking for marriage... tried it and didn't like it. Weeping Willow.
---
LIBRA LADY
DWF Libra lady, 46, ISO literate correspondence with gentle fellow 46-70. Myself: 5'5 140 lbs softspoken, introversive. Interests: agriculture, angling, animals, antiquities, aquaria, architecture, arts, bantam poultry, Cohen, Durrell, ethics, film, Gibran, Gide, Gogol, literature, metaphysics, music, noetics, peace, philosophy, poetry, privacy, Rilke, trees, zen. Good day, Gayl.
---
SEEKING HONEST MAN
46 year old teacher from upstate NY seeking caring honest man to spend time with. I like the beach, traveling, theater, quiet music, and just being with someone who is interested in me. Children are grown. Non-smoker, Deborah.
---
ROMANTIC SOUL MATE
DWF, 46. I'm 6', 230 lb, athlete. Blonde hair, Hazel eyes, and lips like roses. Intelligent, good personality, and mighty fine. Have lots of me to share with the right person. Would you like to snuggle by the fire? Let's get to know each other better. - Maggie.
---
LADY SEEKS WHITE KNIGHT
I am a white lady age 45 years young a widow clean with good morals am full figured 5ft 9 inches tall heavy set not looking for one night stands looking for a clean white guy ages 37 to 60 for friendship and more later after we get to know each other I like to cook music quite times walks movies pets my kids ages 16 &21 have my own home. Martha.
---
E-MAIL FRIENDSHIP
I am 44 seperated female looking for new friends to talk to. Romance is not in the cards for me now just someone to converse with. I like to read,dance,cook,go to the movies and eat good food. If you would like to START A NEW FRIENDSHIP e-mail me.. My name: slimgdy.
---
COLLEGE STUDENT ROMANCE
Hi, I'm a 44 year old divourced single mom with 2 kids still at home. I'm a college student and I live in Alabama. I'm looking for a man who doesn't look at the outside but believes that what is inside is what's important. I don't mean that I'm ugly, just average. If this sounds like you, please e-mail me. I will answer all. Alma.
---
NEED A GOOD FRIEND
43 yo DWF, looking for new friends. I like movies, reading, camping, relaxing in front of a fireplace, (although ex got custody of mine) Good conversation. Dee
---
FOREVER YOUNG
I am a 43 year old....intelligent woman, recently divorced...I married young.. raised four great boys....Now that they are on their own....I decided it was my turn to leave the nest as well...I am an outgoing white lady..that can find humor in just about anything.....I enjoy the outdoors....and have done just about everything...I love fine wine...good food and great conversation... Val.
---
FRIENDSHIP FIRST
I seek to make friends first..then see what happens. I am 43 and have been single for four years now by choice I may add. The rush is still not there to do anything about it. Janet.
---
LETS SHARE TOGETHER
I want to find other lonely people to talk to that are tired of talking to them selves or to their pets. I am a shut-in and it gets terribly lonely. I will talk to anyone., thanks. Shirley
---
NEED A 6'4+" HARLEY RIDER
5'8" lovely 42 y/o 135 lb blonde blue eyed sweed looking for the ultimate man. I do not expect more than I can give.... I am very loving, honest, loyal, dedicated, romatic, sexy, down to earth. I enjoy my 57 chevy, Pit bulls, working, yard work, oh heck....... I enjoy everything and I like to eat!!! Miss Dell Wyatt
---
SEEKING FRIENDSHIP
Hi, I am 42, a universitiy graduate, slim, fair complexion, attrative, from Bangalore, India. Invite correspondence from men to explore areas of interest and identity of mind. All correspondence will be answered. Email: usharao@rocketmail.com.
---
NEW AGE OPTIMIST
interest in zone, type O, body flex, daily sex and meditation, healthy and wellness lifestyle, optimist, introvert, enjoys reading, learning, cards and other parlor games, movies, travel and fine dining; libran (with strong scorpio influence) horse. 5'7" 42 Lezlie.
---
PSYCHOLOGIST
I´m 42 years old, but seem less, I´m a psychologist. I begin recentenly in the Cyberland, so I want to have pen-pals friends. It´s an interesting way to meet new people. Replies in English or Spanish. Cecilia.
---
DBF mother of 3
, N/S N/D, enjoys watching sports, comedy, mystery on TV, going out with family and friends but tired of being the odd wheel. Looking for someone who likes to dance, talk, listen to all types of music and a sense of humor. N/S N/D, . . . well, tell more . . . Val
---
RUSSIAN ROMANCE
Hello, my name is Natasha, 41 years, never married, no kids. I am 158cm.tall, 58kg weight, have brown hair and eyes. I enjoy hiking, dining, movies, theater, travel and handywork. I love also to read, listen to good music. I am an attractive, caring and intelligent woman living in Russia, seeking a sincere, attractive, affectionate, well-educated, financially secure man for marriage. I don't smoke and don't drink. Natasha.
---
LIFE AFTER DIVORCE
It's been four years now and I'm ready to move on. Problem is I'm not 23 and cute any more. I'm 41 and cute. I love the Eagles, Jimmy Buffet and the great outdoors. I live in a small town and don't know how or where to meet men my age. Sherryle.
---
LOOKING FOR YOUR E-MAIL
Hi, my name is Elaine. I would like to have friends to e-mail. I'm 40 yrs. young. Mother of 2 children, love to cook, love the outdoors, folk festivals, shooting pool, gardening, reading, movies, long walks, bicycling, pets, kids, music and love to try new things. Open-minded. Elaine
---
QUIET WOMAN IN FLORIDA
Hi! my name is Anne, I am a SWF 40 yrs old. I am from Scotland but live in S.W Florida. I am basically a quiet and fairly shy person, but I do have a good sense of humor. I am 5' 8" tall and have brown curly hair and brown eyes and I weigh a wee bit more than I should! My interests are: cooking, reading, travel, bowling, camping and throwing darts. Anyone interested in chatting with me can contact me through my email address, Anne.
---
IN SEARCH OF ROMANCE AND MARRIAGE
I am 40, have children will travel. (just a joke!). Am 40 and do have children though. Looking for something special that was lost long ago! Do you have it? Do you want to share it? It has to be shared you know!! Am old fashioned and don't believe in sex before marriage. Looking for a lifetime of commitment, but need to get to know you first. Ruth
---
HOPELESS ROMANTIC
40 year old female who is a hopeless romantic seeks a lifemate to share whatever ups and downs life brings our way. That special someone should be 40 to ....years of age. I have traveled extensively and am not oposed to the military life, I was born on an Air Base. Look forward to hearing from you soon! Winnie the Pooh
---
IN NEED OF AN ANGEL
Hi! I'm from a small town in Texas. I'm 39,5'7", light brown hair, blue-green eyes. I'm not into anything weird or strange. Just looking for someone "normal" to be friends with.I'm a blue-jean gal,but a knockout in a dress.I've been told I'm a cross between Rosanne Barr and Peggy Bundy. Joy!!
---
SEEKING MEANINGFUL LTR WITH THE RIGHT ONE
SWF, 38yo, blonde hair, blue eyes, 120lbs, SMOKER, in search of the right man that likes children (teen) and cats, age38-50yo, with a good financial background. I enjoy walks, picnics, cuddling, Chugging, dinning out, movies, candle light, casinos, long talks and sitting by my fire place. If you live in Michigan and are drug, alcohol and disease-free, E-Mail me. I am NOT into causal sex. PJ
---
ISO SOULMATE. . . MICHIGAN
DWF, 38yo 5' 4", 120+lbs, blonde hair, blue eyes ISO her SWM soulmate living in lower Michigan. Must be finacially secured, a romantic at heart, like kids (teen) and cats. I enjoy cuddling, walks, talking, Chugging, picnics, candle light dinners, movies. If you feel you have what it would take to make me happy, E-Mail me. I am ONLY interested in males living in Michigan. SINCERE REPLIES ONLY. PJ
---
HOUSTON TEXAS
I am a 38 year old native Houstonian female interested in meeting a sincere, considerate, SANE, well, kinda sane, man who likes to have fun and laugh. Humor and kindness are the most important qualities! Nikki.
---
LET'S COMPLETE EACH OTHER
Attractive 38 yr. old blonde seeks that special man to put the colors back into my life.I believe honesty and loyalty in a relationship are possible, but I've yet to find it. I am young at heart, love to go out and dance, and love to stay home and cook, too. I would love more children. I am terribbly lonely and desperately seek a warm, strong, committed love to help fill the emptiness, and make my life complete. Could this wonderful person be you? email: Laurie.
---
COWBOY WANTED
Cowgirl from Florida! Any great cowboys out there? I am a DWF age 38 brown eyes blond-brown hair- 5'5 looking for some great country companionship. I like to fish, hunt, horsebackriding campfires. Very independant. e-mail- Angie.
---
CAPRICORN IN SEARCH OF ROMANCE
DWF, 38, Capricorn. I live in Fort Wayne, Indiana. I am 5'5" tall, have beautiful green eyes, golden brown hair, a smile that will melt your heart and a heart that will melt your smile. I am a full figured, attractive woman. I love Country & Western Music. I collect 70's music and Oldies. I enjoy Jazz and blues and New Age. I love the mountains, and the woods. I'm a Country Gal at heart. I enjoy campfires, and curling up in someones are to watch the stars come out, or watching a sunrise or sunset. I love babying and pampering the man in my life. I am very much open to relocate for the right person. I am a blue jean and Reebok lady, but can feel equally comfortable in Lace and pearls when needed. I sincerely hope to hear back from you... You can view my photo, if you like. Sincerely from my heart to yours, Kimberly Ann.
---
MUTUALLY BENEFICIAL RELATIONSHIP
I'm looking for a man who knows how to spoil a lady. I'm a very sexy 32 year old women with light blonde hair and a tanned knockout figure. I love being with a man who loves to spoil and take care of a woman. Kelly Carson
---
I KNOW YOU MUST BE THERE, SOMEWHERE . . .
I have been looking for you, perhaps you are near, perhaps you are far, this is the way and the time we can get to know each other finally... I am a 35 years old, attractive, blue eyes, brown hair and a permanent smile on my face. I am very energetic and positive, I love music, pop rock my favorite, I love the outdoors, traveling and meeting people. I will be waiting and dreaming of you... Carolina.
---
NEW GIRL IN TOWN
Recently moved to Michigan due to job promotion. At 34 my career is in the "fast lane", but my personal life is limping along. I'm a DBF, 5'2", medium build who prefers older, white professional men. Robin.
---
WORTHWHILE
Hi! I am 34 years old, never married (because I am picky!), no kids, 5 ft. 5 inches tall, long brown hair and hazel eyes, fit. I love my animals (horses, cats,etc.). Live in OR. Want a nice guy 30-38. Denise
---
HELLO GORGEOUS
Hello, my name is Kay, 34 years, dependent son (9 1/2). From New Zealand, I'm outgoing, fun, sincere, honest, sense of humour plus.. Varied interests. :-))) Seeking a sincere man for friendship first. Genuine replies please. email me, Kay.
---
DETTE . . . . WANTS YOU
Name: Bernadette Enriquez. B-day: March 27. I am 33 and lonely too. I need somebody I can share my thoughts and ideas. Probably, more on that. I am petite. I have been told that I am cute. I'm HRM graduate. And yes, I am filpina but can speak japanese language fluently. You'll know more about me if you reply to Bernadette F. Enriquez.
---
ALASKA MALE CALL
SWF 32, Feminine Tomboy displaced in Texas. Desperately seeking to relocate to Alaska, but just a little nervous about going there alone, seeking male for friendship and possibly more. Pamela.
---
SEEKING SPECIAL GENTLEMAN
Single, 31 year old woman seeking a special gentleman. I am a single parent, very active in sports and the arts. I'm looking for a few good people who might become special friends. I'd like to think that true love still exists? I am 5' 7 1/2", big blue eyes, and short blonde hair. I love meeting new people and exploring the world around me. Michelle
---
A WOMAN WHO IS SOOOO FOR REAL
Hi, my name is Dee. I am a single black female who is searching for the man for me. I know you are out there, but for some reason, we are having a hard time finding each other. I am tall, (5' 11") and attractive. I am currently enrolled in a master's program from which I will be graduating from this December. I am seeking that one man whom I can call my own. My ideal man is a single black male, who is tall (OVER 6') sensitive, honest, laid back, affectionate, good looking and sexy, kind and patient. I am interested in guys between the ages of 30 and 35. Dee
---
FRIENDS AND MAYBE MORE. . .
Hi, I am a single woman seeking a man. I am 31, and live in PA. I hope to find romance or at least make many new friends. Please e-mail Michelle.
---
FRIENDSHIP AND ROMANCE
I am a 31 year old, DWF who is interested in meeting someone for friendship and romance. I am 5'5", 135 lbs, with blonde hair and blue eyes. I love to laugh, and to sing, and even to cry at romantic movies. I am a sucker for flowers and romance, especially star-gazing (oh yeah, I'm a Trekkie, too). I am a single Mom, so I play a lot of baseball, football, etc as well. If you are looking for a relationship, no games, I'd like to hear from you. Margie.
---
WANT TO LAUGH AGAIN
I am 30 yrs old, and looking to laugh again. I like walks on the beach, watching sunset, and sunrises. I like lighthouses, and long walks in the woods. If you are looking for a friend, then write me. Cyndi
---
LONELY IN ALASKA
30-year-old SWF wonders: Are there any lonley men out there? Sandra
---
DOUBLE TROUBLE
TWO SWF.. 3O ish .... naughty but nice .. ISO two white males 40ish for double dating... looking for brut type ...the real men ... are you out there? E-mail us.
---
SWF 29 ISO COUNTRY MAN 35-45
I am 5' 6" brn, grn, christian, into sports, fishing, bowling. Looking for lonely farmer type for friendship first with other possibilities. I am into law and upholding it. You are honest, christian, hard working, social drinking, looks are not major requirement. If interested contact me, we'll talk. Tammy
---
FROM RUSSIA WITH LOVE
Hello,my name is Tania. I seeking a sincere,attractive,well-educate,financially secure man for marriage. I am 29 years old,160cm tall,48kg weight.My hairs is brown,mu eyes is green.I dont smoke and dont drink.I live in Russia.I was not married and have not children.Please respond to e-mail: oritn@bitex.ru.
---
LONELY EXECUTIVE
I am a 29 year old, hard working, devoted lady of 5'7", 250lbs living in the caribbean enjoying outdoor tennis and soft music. I desire warm companionship with a tall SWM, age 30-35 years old, who is gentle and respects women. Karen.
---
NEVER A DULL MOMENT
I have a son and five house pets and a job. it would just be nice to meet a nice guy who wouldnt mind doing some stuff around the house , maybe going out on occasion. im really busy, not a lot of time to party. I like basketball, antiques, animals, exploring the countryside, hanging out at home. I dont smoke and prefer a nonsmoker. I drink a little on occasion, but not often, sounds pretty boring huh. Trust me teres never a dull moment around here. write if youre interested. Alice V.
---
SEXY, BEAUTIFUL CHINESE WOMAN
A 28 years old , pretty ,charming , lovely & sincere chinese girl with height 5'5'' & weight 53 kg, is looking for a healthy, wealthy, generious, caring,educated, responsible American man. May Zhou.
---
KENYAN ROMANTIC
I am a Kenyan lady of 28 years old and a single mother of two. I seek friendship, romance and marriage with a mature man from any part of the world. Regards, Rosemary.
---
YOU COULD BE THE ONE
SWF/28 almost 29. I just can't believe it. I've spent hours on the WWW, looking for a man that likes the things I like: Kids, camping, hunting (bow hunting a plus), fishing, and I love to cook and bake. No head games. So, if you are it, email Karen.
---
LOOKING FOR SOMEONE SPECIAL
I am a 27 year old, full-figured (but losing) female with long dark hair and brown eyes. I love to laugh, take long walks, the beach, skiing, movies, and going out to have fun. I have my masters degree in Education and am currently teaching. I am looking for a nice guy who knows how to treat a women right and that has some of the same interests. I'm Debbie.
---
ISO SINCERE AND HONEST MAN
I'm a 26 yr old swf who is a full time college student looking for a sincere and honest man who wants an adult relationship...We can start as freinds and who knows..Email me..to find out more.. Cheriee
---
ISO HONEST AND TRUE
My name is Rowena and I am 25 years of age. I am looking for a man who is honest and truthful, between the ages of 27 and 40. Take a leap of faith and email me. Rowena.
---
IS ANYBODY OUT THERE?
Sabine, 25y, interests include deep sea diving, riding reading, music, travelling, good wine & dine. I've got my own succesful restaurant on the Costa Brava in sunny Spain. I am fluent in english, german, spanish & some french. I have lived in Europe and Africa. My problem: I really don't have much time to find a suitable companion, because I am hard working with time only off seasons. What I really don't need are cowboys, machos, mummies darlings or perverted minds. I would sincerely welcome contact with a sincere, optimistic men --let's say up to 35/37? I am 172 cm tall, brunette, sportiv, well build and I would imagine people think I am good companionship with a great sense of humour! I just wonder if there is my 'Mr. Right' somewhere out there? But, please don't waste my time and don't be rude- this is an honest try and I'd appreciate honest replies. I will answer. I promise. Sabine.
---
MEANINGFUL RELATIONSHIP
Hi My name is Sandy .. Male Aged 24 from INDIA. I would like to meet new people through E-mail. I'm 5'8" brown eyes and black hair... Looking for someone for a meaningful relation, Sandy.
---
LONELY IN THE CARIBBEAN
A 24 year old 5'3" 130lb exotic looking, energetic, educated, fun loving girl seeks a tall, athletic, good looking SWM 25-30 years old who is very caring and responsible. Send photograph with e-mail to Simone.
---
WHY NOT?
Looking for interesting conversations and to share exciting experiences. I am a 24 native Californian - Nor Cal, that is. Hope to hear from you soon! Sienna
---
LOVE TO YOU, FROM MOSCOW
My name is Irina, 24 yo, live in Moscow. Sounds interesting?, e-mail, Irina.
---
A LITTLE BIT COUNTRY
SWF 23, 5'9", slim, blonde hair, blue eyes looking for SWM between 23 - 27 for friendship with the possibility of something more. Must like children, country music and know how to two-step. I enjoy country dancing, reading, travelling and the movies. Honesty and integrity a must. s.wave@usa.net.
---
LOOKING FOR THAT LAST GOOD MAN
My name is Lisa . I'm a 22 year old [ DWF ] looking for that one guy out there , with a good heart and ful of life. looking for a man ages 25-38 if you think your one of the last good man left in this world please write . Lisa M.
---
BELIEVE IN LOVE
I'm a 5'5" slim, attractive 22 yr old Canadian woman who is tired of meeting all the wrong men. If you are between 25-35 with a great sense of humor, believes in love, trust and fidelity and who has a dynamic personality why don't you drop me a line and maybe...you never know what magical thing can happen. sha_ri@rocketmail.com.
---
BUSCO A ALGUIEN
Chica exotica y sensual de 22 años de edad, busca conocer amigos lainoamericanos o americanos con caracter sencible, Escribeme Te Gustara. Lilieana. sera una experiencia inolvidable.
---
RICH AND ROMANTIC
Hi, I'm 21 and am in search of a well-to-do and romantic husband. E-mail, Victoria
---
FRIENDSHIP WANTED
21 yr old SWCF ISO SWCM. Any cowboys out there? If you are in Oregon, definite bonus. I am not a cowgirl, but I love country music and cowboys. I have an open mind, and I like real discussions. I am not interested in playing games. Friendship must come first. If something more develops, so be it. . . . Blythe
---
LET'S LAUGH AND CHAT
Hi my name is Angie. I'm 21, slim with hazel eyes. I want to hear from boys who like to laugh and I enjoy nice chats. Love, Angie.
---
GOOD TIME AND CONVERSATION
Hello my name is Angie. I am 21 years of age. I have light brown hair and hazel green eyes. Looking for easygoing person like myself who enjoys a good time and some intellectual conversation. Angie.
---
IN SEARCH OF MR. RIGHT
20 year old college student seeking friendship, maybe more from Mr. Right. Must have sense of humor and be able to laugh at your mistakes. Jen
---
WHERE'S MY ROMEO?
Hi, my name is Carly and I'm 19 years old. I love a man who knows how to romance me. Not with money and flowers, but with his words and actions. If you are willing to be that man, I'm willing to give you a chance. Carly
---
BREATHLESS ANTICIPATION
Searching for a love, or friendship, of a lifetime and longer? I'm a mature, loving young woman who enjoys life, the out-doors, travelling, children, meeting new people and more! Age 19, looking for someone 19-34. Feel free to drop an email anytime. Heather
---
LOOKING FOR LOVE AND FRIENDSHIP
I am seventeen years old, I am very mature so I am looking for a mature man. The age, looks, body, doesn't matter. All I want is someone who is mature, wants to be my friend as well as my "lover." All I ask is that you have a great sense of humor, and love sports. If you'd like to know more about me e-mail+me. I am waiting for you. B.Jo
---
FILIPINO MAN SOUGHT
Hello my name is Ana, and I am seeking a 17 year old Filipino man to satisfy my needs. I am currently enrolled in a vocational school. I want him to be caring, and understanding, oh, and one more thing: I do NOT want him to be wise to me. No caucasian males from the mainland allowed. I am very easy to please, just care for me and I will take care of you. Ana.
---
BRITISH COLUMBIAN
I live in a small town in BC Canada. You can easily get bored here. I'm 16, have long brn hair and athletic build. I'm looking for someone my own age or slightly older to come and rescue me from my bordum..... E-mail me at VBplayer@hotmail.com
---
SOMEONE TO HOLD
I'm 14, 110 lbs, 5'3", short light nrown hair, Brown eyes, and looking to find someone special to come into my life. Let me hear from ya, Karen.
---
12 YEAROLD SEEKS BOYFRIEND
My name Is Stacy And Im looking for a guy who can make me happy. Looking for someone in Ohio. Stacy.
---
---
Thanks for you interest in
Dave's Lonely Heart's Club


Return to Dave's Lonely Heart's Club
Page Design by Dave (love@althits.com)